August 19, 2018
FML: Water Heater Went Out
Update> I was able to fix it all, in several days.
I bought
Performance Plus 40 Gal. Short 9 Year 38,000 BTU Natural Gas Tank Water Heater
We got a military discount so the cost was about $630 or so. Then I put it in.
Here's the photo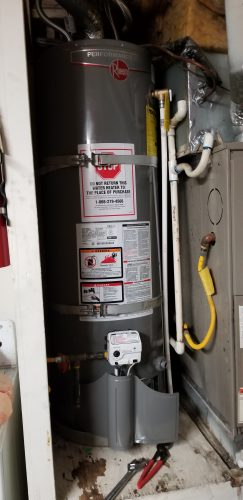 ORIGINAL POST (few weeks back)
We noticed the water heater was leaking on Friday. Then it started leaking increasingly. It was filling up a bucket of water toward the end. On day two I was able to remove the whole thing. The only problem I had was it wouldn't drain, but once I unhooked the hot water side at the top, it started draining. Then I bought one at Home Depot but we discovered they take a military discount so we're going to return it and get 1 model up with the discount. $600-700. The Aholes wanted like $1300 to install it. F that.
LUCKILY we caught it before it started blowing up water everywhere, about a year ago one of the water lines burst but it luckily was shooting out the vent perfectly to the patio haha (one time lucky).
Turns out the dying one lasted 30 years, which is really good. 1988. It's some brand from Ace Hardware where everyone says they don't make them that good anymore. Now they have 6 or 9 year warrantys.
Last week, we went in for a $400 Car repair, and now they want $1,000 to fix it and it's like a $2,000 car now.